March 21, 2022
Georgetown – Exuma Sound – Moriah Harbour
Our new guests Cortney and Brent, with their teenagers Ella and Cooper, came on board around 10:15 am, after Rob picked them up at the dinghy dock. The dinghy motor dies on the way back to the boat, so they got a short tow from a good Samaritan from a boat over. Rob was able to fix the fuel leak as soon as he was back and had the tools, but this family's adventure started out really adventurous!
After some snacks, drinks and the boat briefing, we sailed off the anchor to head out into the Exuma Sound and sail south towards Three Fathom Channel. We had a wonderful sail, with both sails up, and everybody enjoyed it immensely. 
After coming through the Cut, we headed straight into Moriah Bay, and set anchor there around 1:30 pm. A lunch of Cheddar Jalapeno Cornbread and "Guacamole Salad" (lots of Tomatoes, Cucumbers, Onions, Avocado and Lime) was served.
And then it was off to the beach! The beach in Moriah is so beautiful, and a great time was had by all!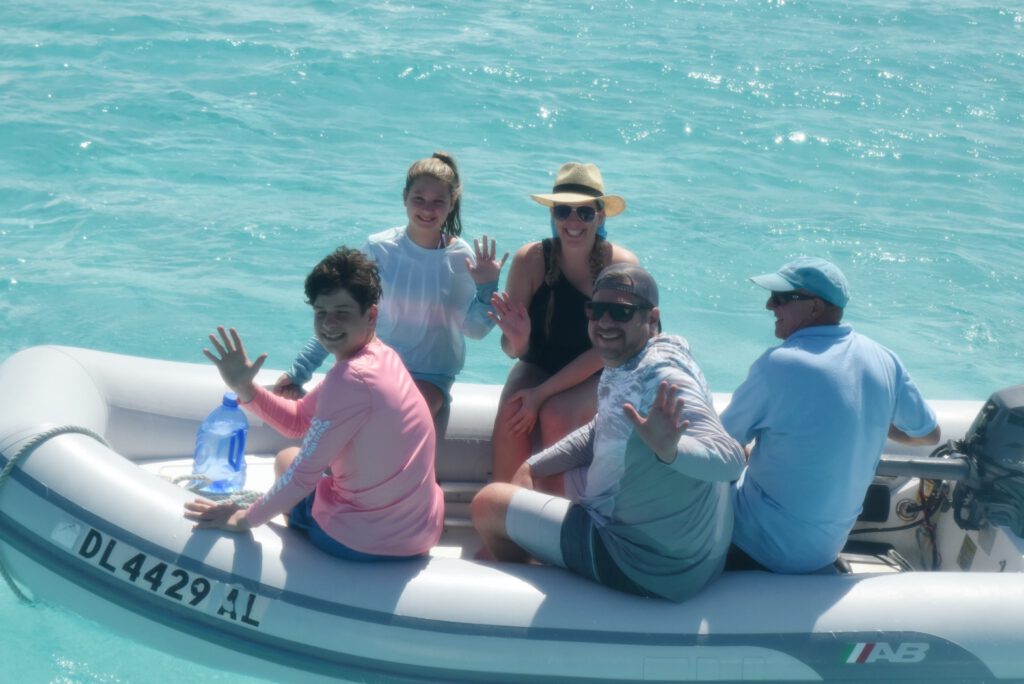 After the beach it was time to hang out on the boat and chat, and then of course dinner. Tonight was appetizers of brie and pepper jam bruscetta, a mixed salad, blackened Grouper and garlic rice, and for dessert grilled cinnamon bananas over ice cream. It started pouring down rain during dinner, so halfway through it had to be moved inside the salon. It soon stopped though, so everybody got to go back outside and enjoy the rest of the night.
March 22, 2022
Moriah Harbour – Sand Dollar
After everybody emerged at 8 am, a continental breakfast was served, and we lifted anchor around 9 am to head to Sand Dollar for some snorkeling, beach and hiking. When the anchor was down in Sand Dollar, Captain Rob took the family over to the beach by Sand Dollar Rocks to do some snorkeling on the patch reefs off the beach. Everybody really enjoyed that, and came back to the boat in time for a nice lunch of chicken, shrimp and veggie skewers with fresh boat-made aioli and warm pita bread.
With a full belly, it was time to rest and hang out on the deck, before Rob took them back over to the beach for a hike across the island to the Exuma Sound side and the beautiful beach there.
Everybody came back hungry from the exercise, and Anya served an early "Taco Tuesday!" dinner of boat-baked tortilla chips with Mango Pineapple Salsa, followed by Grouper Tacos with special slaw, boat-made fish taco sauce, shredded cheese, the mango salsa, sour cream and warm tortillas, along with Anya's special Mexican rice.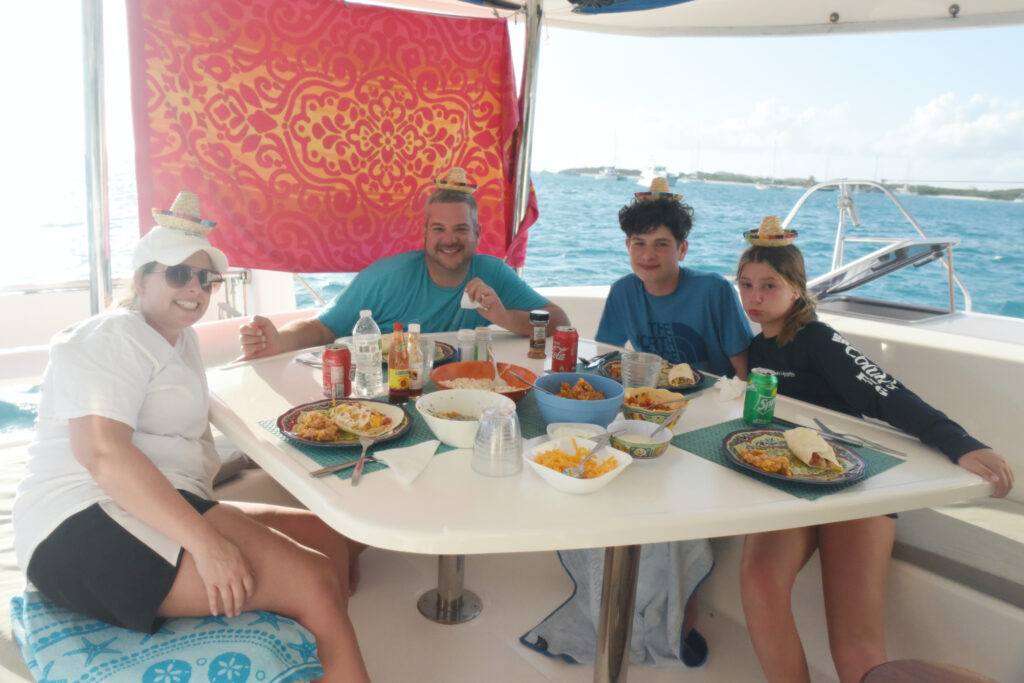 The dessert of coconut rum rice pudding had to wait until there was a little room after the pretty sunset, and after dessert family time was enjoyed at the cockpit table.
March 23, 2022
Sand Dollar – Hooper Bay – Stocking Island
We had a breakfast of creamy scrambled eggs, mushroom and tomato medley, grilled bacon and buttered toast in the Sand Dollar anchorage, and then lifted anchor to head to Hooper Bay.
Once anchored there, Anya took the family to the beach in the dinghy. They were armed with some pieces of cabbage to feed the turtles, and this early the beach was almost empty, so they had the friendly turtles all to themselves for over an hour. Once more people started showing up, the family headed back to the Destiny III for lunch. This was Greek Salad and garlic pita and garlic bread. Following an after-lunch siesta, we pulled anchor again and headed over to Stocking Island to find a good anchoring spot near Chat'n'Chill. Rob took the family over to this awesome beach bar and dropped them off while Anya started preparing dinner. The plan was for Rob and Anya to join the family for half an hour to listen to a live Bill Rowen concert, but just as the crew was going to head over, it started pouring rain. The text soon came from Brent that Chat'n'Chill was closing due to the weather, so they needed a pick up.
Tonight's dinner was Anya's Pepper Poppers for appetizers, then grilled Mutton Snapper with creamy butter garlic sauce over linguine, followed by warm fresh-baked brownies with ice cream.
After some chatting in the cockpit, everybody fell into a food coma and headed to bed early…
March 24, 2022
Stocking Island – Monument Beach – Georgetown
In the morning after a breakfast of Banana Cinnamon French Toast we headed over to Monument Beach for a hike up to the Monument. The family loved the morning exercise and especially the view!
Lunch was Chicken Caesar Salad and a fresh baked batch of Ham and Cheese Bread served with cold butter.
After lunch was more beach time, and we then headed over back to Georgetown since the family wanted to have a dinner at Shirley's. After we picked them up, crew and guests sat together in the cockpit and later on deck well into the evening, with many funny stories and much laughter shared!
March 25, 2022
Georgetown
It was good-bye time for this wonderful little family, and everybody was sad to go. After continental breakfast with fresh fruit salad, many hugs and well-wishes were exchanged when they all left Destiny III…