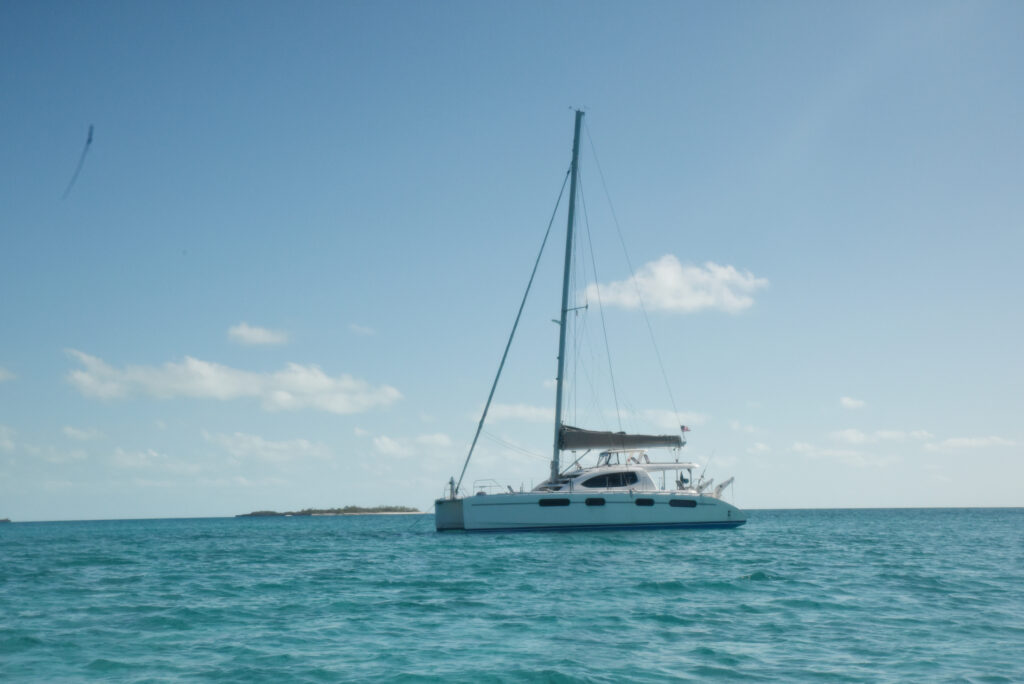 After a few days in Cat Island, it was time to take over the Destiny III and sail her down to Georgetown, where we would pick up our first group of 6 guests. That many guests with a crew of 2 is already a challenge, but to have it as our very first charter on the new-to-us boat was an even greater one!
We spent 2 days in Georgetown making some repairs and provisioning, and then the guests came on board.
Here is the charter logbook:
Feb 26, 2022
Geogetown
Anchored in front of Lake Victoria. The Watertaxi brought Lesley & Wes, Emily & Scott and JJ & Kyle on board Destiny III at 11 am. After a champagne reception with some snacks, we headed over to Monument Beach off Stocking Island for some beach time. After a lunch of fresh Snapper Ceviche that had been caught by local fishermen earlier that morning, it was beach time.
Dinner that first night was an appetizer of Brie, Pepper Jelly and Cranberry Canapees, followed by a mixed salad. The main course was Chicken Lazone with Penne Pasta and then a dessert of warm rum raisin sauce over ice cream.
After a fun night of much laughter and many libations, the guests retired late, for a peaceful first night at anchor.
Feb 27, 2022
Geogetown/Stocking Island to Lee Stocking Island
Breakfast at anchor consisted of Lobster Scrambled Eggs, toast and local watermelon jam.
We lifted the anchor at 8:40 am under sail and had a great day sailing under full sails, doing 8 knots at an average windspeed of 12 knots running north in the Exumas Sound.
At 1:30 pm, our anchor was down, and a lunch of Greek Salad, and Olive Tapenade Pita Bread was served and enjoyed by all.
The afternoon was spent at the beach, and the guests were the only ones at the beach. They got to see some fun stuff snorkeling off the beach, and came back very hungry to appetizers of lobster, bacon and cream cheese stuffed peppers.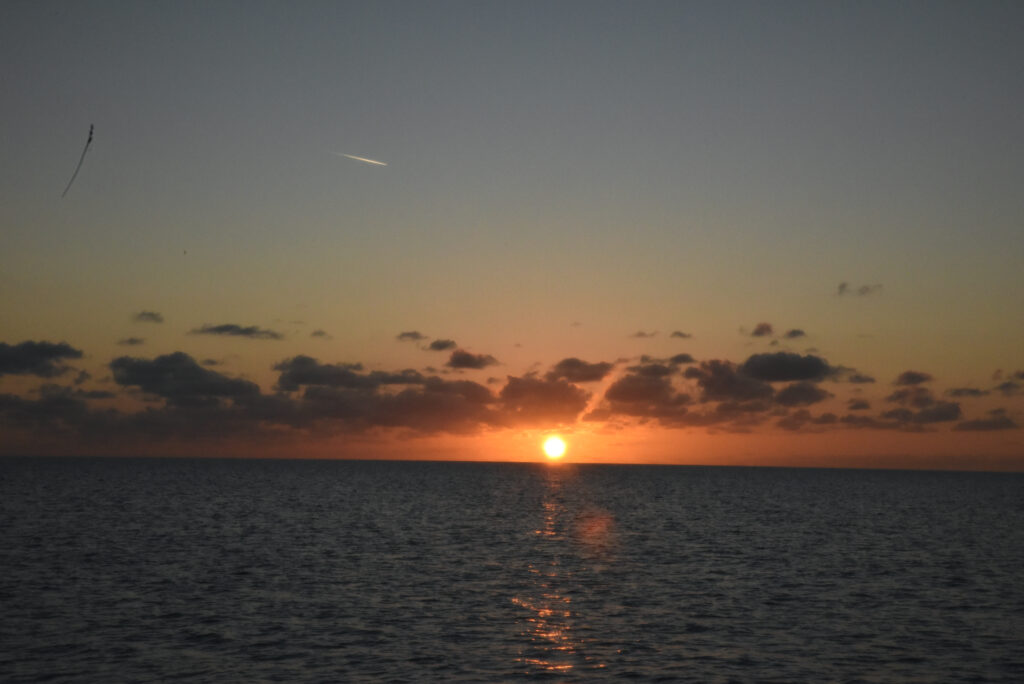 Dinner on the second evening consisted of Grilled Grouper with a Wasabi cream sauce, Basmati Rice and steamed Broccoli, followed by a nice cheese and cracker plate accompanied by Jalapeno Pepper jelly.
A very quiet night was had by all, and the attraction was chatting and star gazing on this fantastic starry night with no ambient light around.
Feb 28, 2022
Lee Stocking Island to Rudder Cut Cay to Little Farmers Cay.
We started early on day 3, with coffee at 6:30 am and the anchor up at 6:45 am. Since the wind had died completely, we motored over to Rudder Cut Key (one of David Copperfield's private islands) to snorkel the Piano Site right off of the Key.
On the way there we all had an exciting moment when Scott caught an 8-pound Mahi Mahi!
A Continental Breakfast (fresh tropical fruit salad, grilled bacon, bagels & toast, butter, cream cheese and jams, cereals, boat-made yogurt, and juices) was served right after the anchor was down at 8:15. The fish was cleaned and prepped, and everybody voted to have Chef Anya's lunch plan changed to fresh Mahi Mahi Ceviche.
There was some fun morning snorkeling off the back of Destiny III with a big Nurse Shark, waiting for the tide to become slack for some snorkeling on the David Copperfield Piano Sculpture and the surrounding coral heads off the dinghy. Everybody had a wonderful time, and spent over an hour snorkeling this site!
In accordance with the big catch, a wonderful Mahi Mahi Ceviche lunch accompanied by garlic and parmesan flatbread was enjoyed by all, and after lunch we lifted anchor to head to Little Farmers Cay. There was no wind, flat calm seas, and a beautiful scenery with all the colors the Bahamian waters have to offer all around us.
We dropped anchor right off the small settlement on Little Farmers Cay, and after a requested snack of another cheese board, Captain Rob took the whole party over to the settlement in the dinghy, to do some exploring.
They took in the sunset from the beach bar there, and Captain Rob ferried them back to Destiny for appetizers and then dinner.
Appetizers were Mahi-Mahi Sashimi with Wasabi and Ginger, and since it was "Taco Monday", there were also Tortilla Chips with fresh boat-made salsa. The main course was of course Tacos: grilled Snapper, grilled Mahi-Mahi, Mexican slaw, cheese, sour cream, more fresh salsa and tortillas, and a side of Chef Anya's special Mexican fried rice. Dessert was straight-out of the oven hot browns topped with ice cream, and a large pitcher of Margaritas!
Everyone slept well that night…
March 1, 2022
Little Farmers Cay to Staniel Cay
We had a breakfast of Greek Omelettes, grilled sausage and toast still at anchor and then set off towards Staniel Cay at 9 am. We set anchor there before noon. Rob immediately loaded up the dinghy with snorkelers, to take advantage of the slack low tide for snorkeling the Thunderball Grotto. Everybody loved it!
After the snorkeling adventure, we had a lunch of crab cakes, Caesar salad with boat-made dressing, and freshly shredded Parmesan, and garlic butter toast. After lunch the guests were ferried over to Staniel Cay Yacht Club for their 5-day Covid tests, and Anya got to go to shore to re-provision some fresh veggies. That night was "Dinner off the boat night", and reservations had been made by the crew for the 4 course meal at the Yacht Club. Getting ready was accompanied by a bottle of champagne and lots and lots of photos!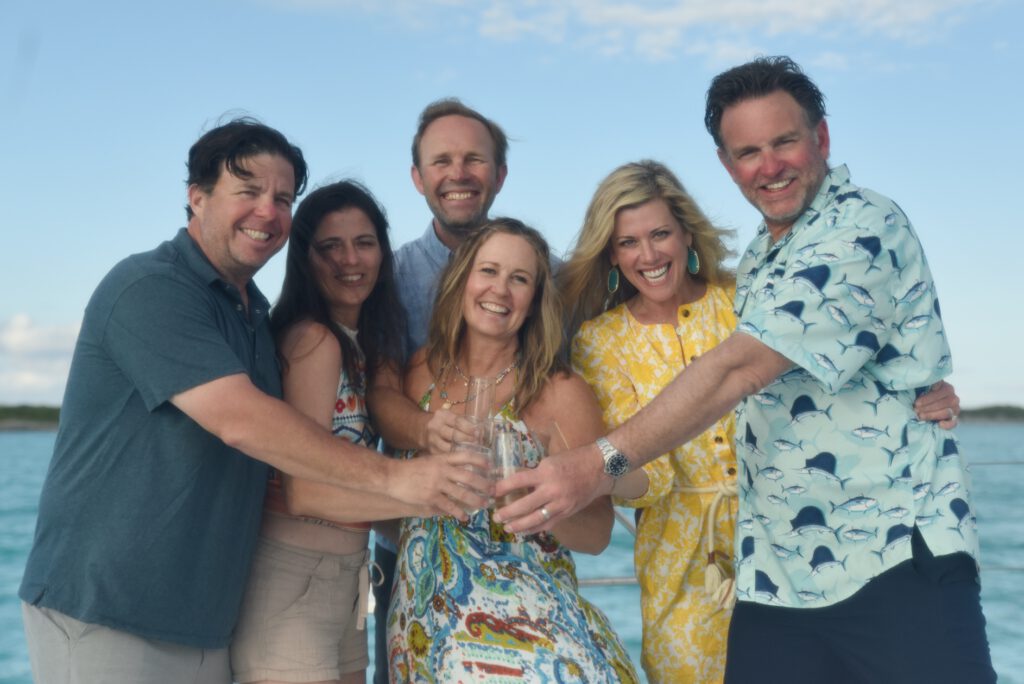 March 2, 2022
Staniel Cay to Cave Cay
We had a continental breakfast with breakfast sausage at the anchorage. At 8:30 we lifted anchor to head around the corner of Big Major into Pig Bay, where we anchored close to the beach. Captain dinghied everybody over to Pig Beach, armed with some pig food bags Anya had prepared.
After that fun excursion, we sailed off the anchor and all the way to Cave Cay, doing 7-8 knots on a 12 knot wind. Lunch was served underway and consisted of a huge Caprese Salad with fresh basil and hot boat-baked ham-cheese-carrot bread.
We anchored by the beautiful beach of Cave Cove. Wes and Kyle paddleboarded over to the Cove, and Rob took the rest of the group in the dinghy. The beach is beautiful, and there are many many turtles swimming around in the shallow water of the cove. The group also saw some Eagle Rays and Starfish.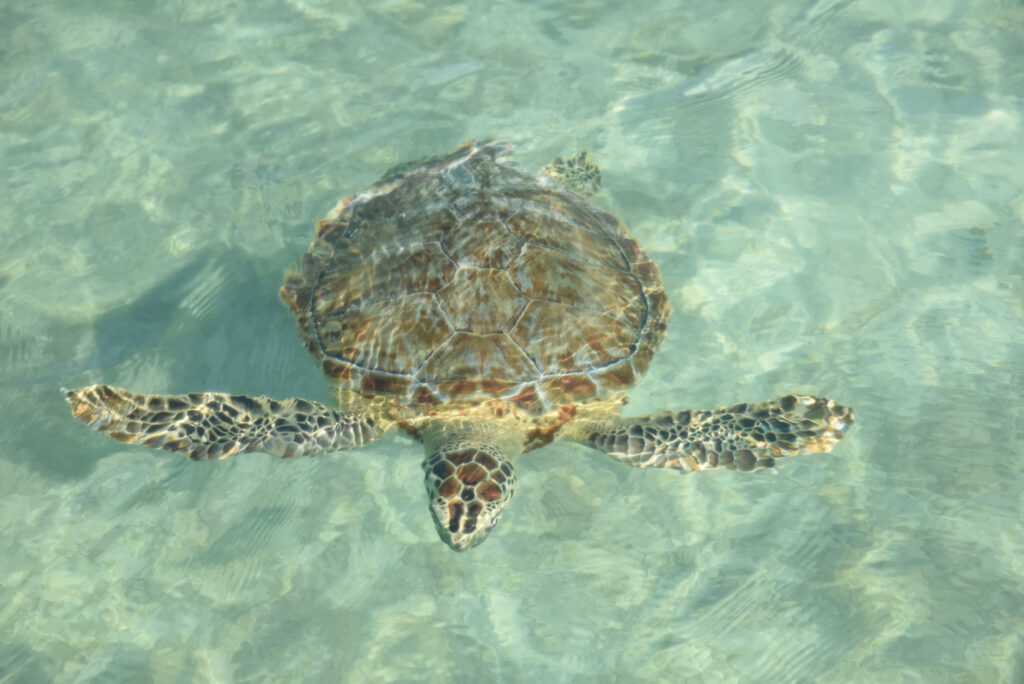 The sunset appetizer of chicken tenders was served at the group's return, and dinner was a mixed salad, Garlic Butter Lobster over Linguine, and a Coconut Rum Rice Pudding for dessert.
March 3, 2022
Cave Cay to Great Exuma
Breakfast was served at anchor, and today was breakfast burritos and grilled bacon. We lifted anchor at 9 am and headed past the Copperfield islands and out of Rudder Cut into the Exumas Sound. The trip through the Cut was a bit of a roller coaster ride, but Captain Rob confidently got us through safely. After we turned south, the wind was on our nose, and we had a wavy trip south in the Sound. The team caught a big Mahi Mahi – they had to hand-reel it in as the rod was wrapped and the fish was being chased by a shark – and we knew we would have Sashimi and fresh blackened fish for dinner! Another big Mahi Mahi was caught, but it was a smart one, and wiggled itself off our deck and back into the water.
At 3:30 pm, we found a good anchoring spot amongst all the boats anchored at Stocking Island, and we were very close to Chat'n Chill Beach Bar, so Rob ferried the guests straight there in the dinghy. A wonderful time was had by all, and the male Destiny III team even won the Chat'n Chill Beach Volleyball Championship!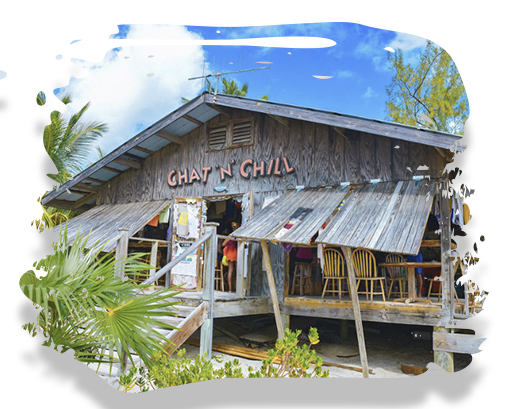 Dinner on board was of course Sashimi, a salad followed by blackened Mahi-Mahi, fresh steamed vegetables, and hot fresh-baked bread accompanied by garlic butter. The cheese plate made everybody groan as they were already so full…
Then another fun evening of chatting and chilling and sharing adventures, and some great sleep at the anchorage!
March 4, 2022
Stocking Island, Georgetown
It was sleep-in morning, and then a continental breakfast. Afterwards everybody got ready to head into Georgetown for their pre-flight Covid test and to walk around Georgetown a bit.
After that was done, we had a nice lunch of Balsamico Chicken, and then the group headed back to Chat'n Chill for another round of beach drinks and volleyball.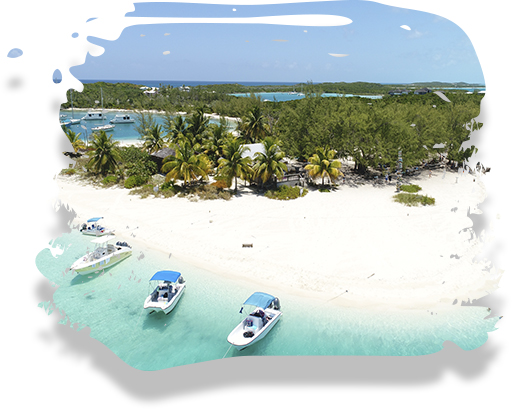 It was their last night on board Destiny III, and for the Captain's Dinner the guests had requested lobster, so a full lobster dinner (lobster in the half-shell, sweet potatoes, cole slaw and spicy corn) was enjoyed by all, including Captain Rob!
Many stories were told that night, and it was a wonderful last evening!
March 5, 2022
Georgetown
The last few hours on board were spent with an Egg Shakshuka (runny eggs on a bed of vegetables) for breakfast, and packing and getting ready to go to the airport. The water taxi was a no-show, so Captain Rob decided to take the guests to the dock in the dinghy two by two. It was a wet ride, but the guests took it with great humor!
Needless to say, we will be using a different water taxi service next time…