Anya got our Dinghy Chaps done in time for our departure, and we put them on our dinghy before we pulled it on deck :-).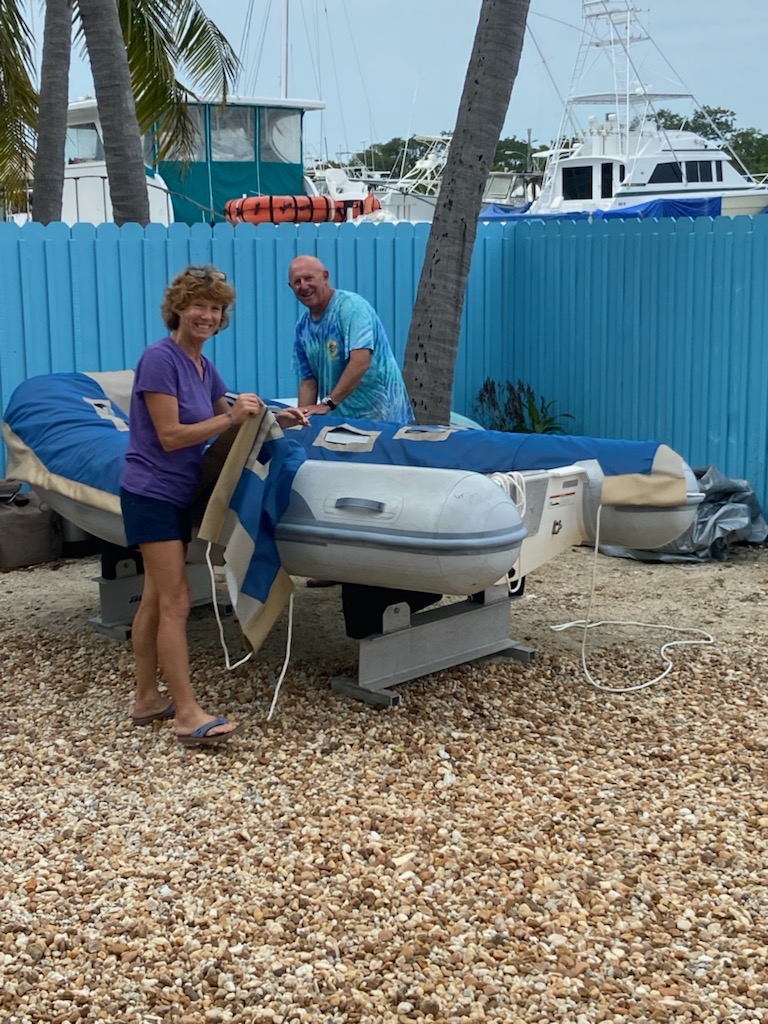 We cast off on Sunday, Feb 6 2022 at 4 am to head across the Gulf Stream towards Bimini Island in the Bahamas, and were at the edge of the Gulf Stream by 5:30. By 11 am, we still had 3 to 5 foot swells, but they were pretty easy to handle as they were fairly far apart. Think a slow up and down with only the occasional splash over the deck ;-). By 3 pm it had calmed down quite a bit, and we pulled into Bimini at 4:30 pm on a gentle swell. The crossing had taken us 12 hours, which we had expected.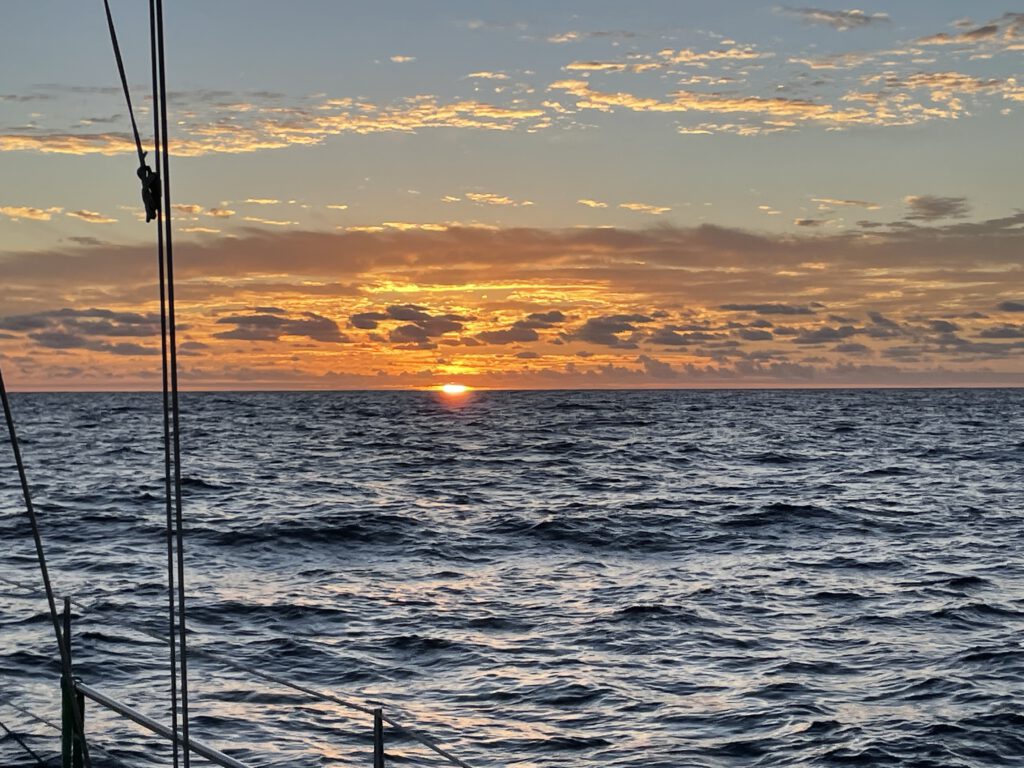 We chose to dock at Brown's Marina so we could check into immigarion and customs the same night (they are open till 6 pm on a Sunday!). Having used the Bahamas online Click2Clear system, it was a pretty easy process. The staff at Brown's were extremely friendly and accommodating, and after ckecking in we settled down for a cold beer and and early night. We were exhausted!
The next morning (Feb 7) we headed out of Bimini at 8:30 to cross the Bamas Banks as far as we could/ wanted to go towards Nassau. It was flat calm, no chance to sail, but a very pleasant motor across the Banks. At 6:30 pm, more than half an hour after sunset, we set the anchor on the Banks. We thought we had a good spot off the beaten tracks, but had 2 big scares when several hours apart, 2 big ships headed straight for us and then turned off at the last minute. We're not anchoring in that spot again!
After a fairly good nights' sleep (up at 4 to close the hatches because it was pouring down rain, and run the generator at 4:30 because the batteries were too low due to us running the AIS, the radio and the deck lights so we could be detected), we lifted anchor at 7 am for our last 55 nm leg to Nassau. It was still raining, but started clearing up to the most fantastic rainbow we had ever seen.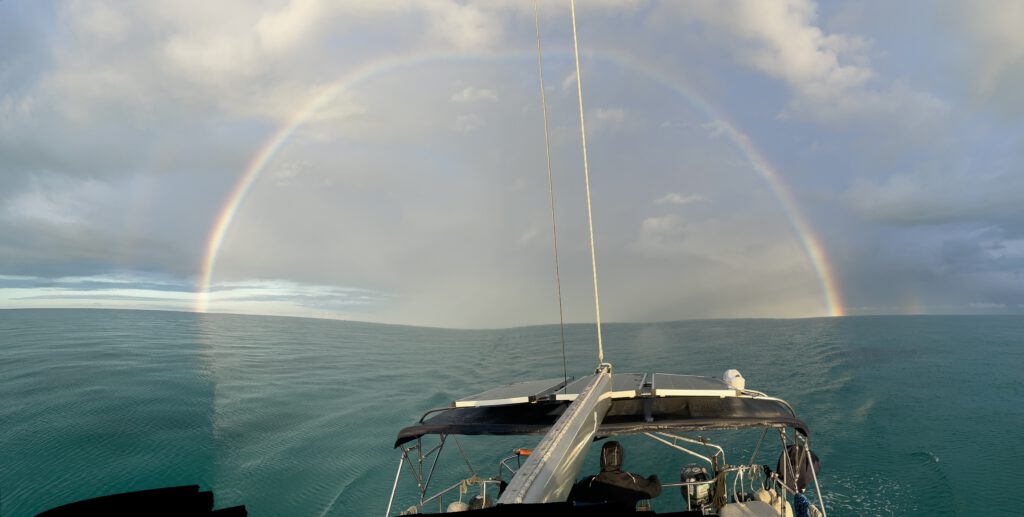 We still had almost no wind, and what we had was on the nose, so we cleared through North Cut on bare poles easily and headed into the super-deep Northwest Channel, referred to as the "Tongue of the Ocean". It was a bit more choppy there, but it was still a pretty smooth motor to New Providence / Nassau. At 5:30 pm (after 10.5 hours) we had the anchor down in West Bay, just in time for a major downpour that lasted for several hours.
February 9 (Thursday) we headed out of Nassau towards Highbourne Cay in the Exuma Islands. The wind was on our nose again, so we had to bite the bullet and motor yet again. It took us 10 hours to get to Highbourne, and we anchored in the Bay. It was pretty choppy, and we had an uncomfortable night.
The next morning we set out to sail further south. There was bad weather coming, so we didn't have as much time in the Exumas as we had hoped, especially because were getting really tired of eat-sleep-go! We were trying to make it all the way to Blackpoint south of Staniel Key, from where we would cross the Exumas Sound to Cat Island, our destination.
The wind gods were with us this time, and with 13 – 18 knots on the beam, we sailed at a steady 6-8 knots.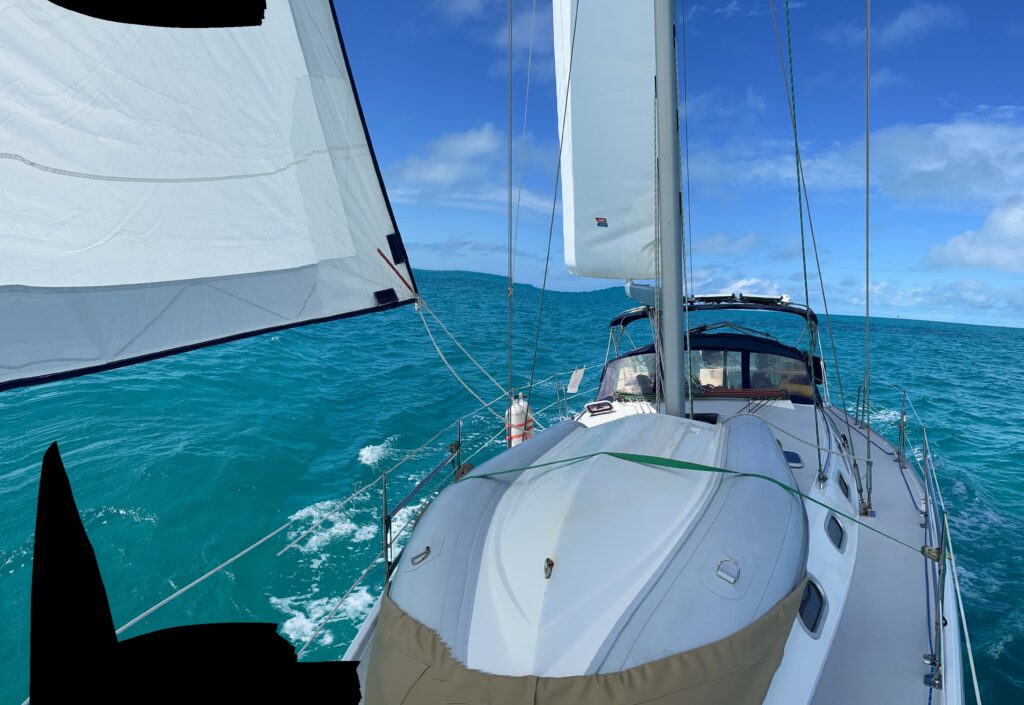 We got to Blackpoint by 4 pm, and decided to go on shore (finally!) and also spend an extra day in their beautiful anchorage and get some rest (finally!).
Since our dinghy was on our deck and the motor was attached to the stern of the sailboat, we decided to just put the dinghy in the water and row it to shore. A very funny attempt by each of us, going in zigzags all the way!
At our favorite bar in Blackpoint, we got a big hello from our local friends from last year, and met some other sailors we had been talking to on the radio on the cruise down.
Next day was sleeping in and Anya making a nice big breakfast!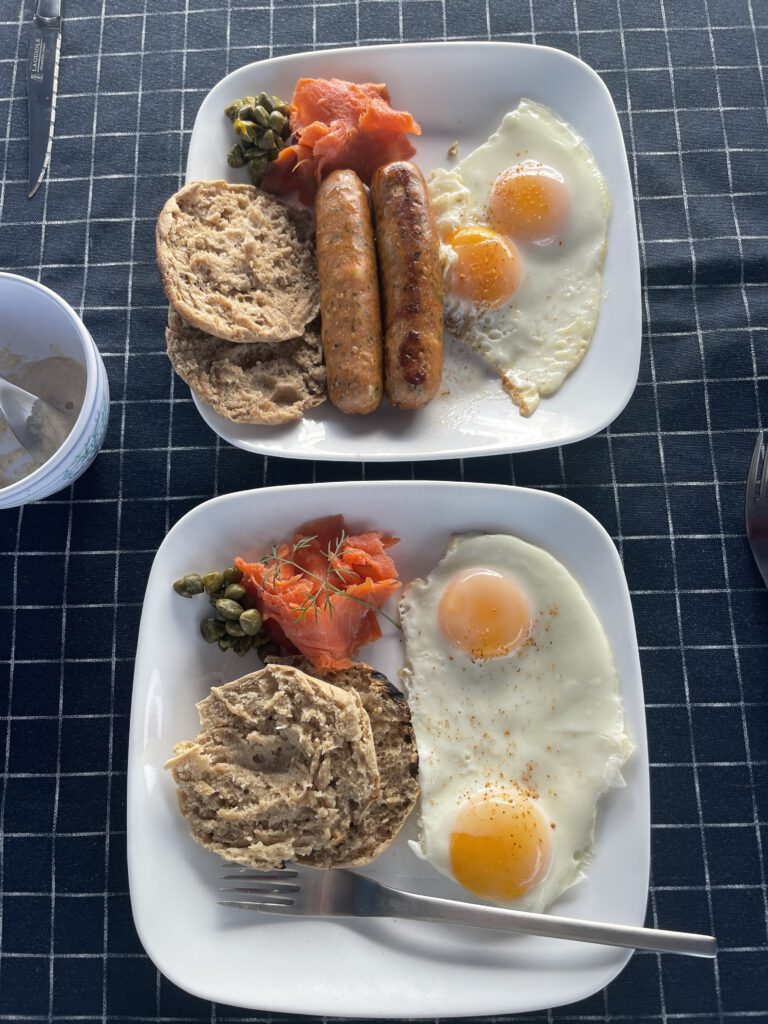 After breakfast we relaxed, and then rowed to shore again for a walk. This time we had it figured out – by rowing together side by side we could make the dinghy go straight (as long as we were coordinated haha).
We went for a nice walk across the island, chatted with some locals, and took in the beautiful view of our anchorage. There were lots more boats in it than last year, which is great for the local economy!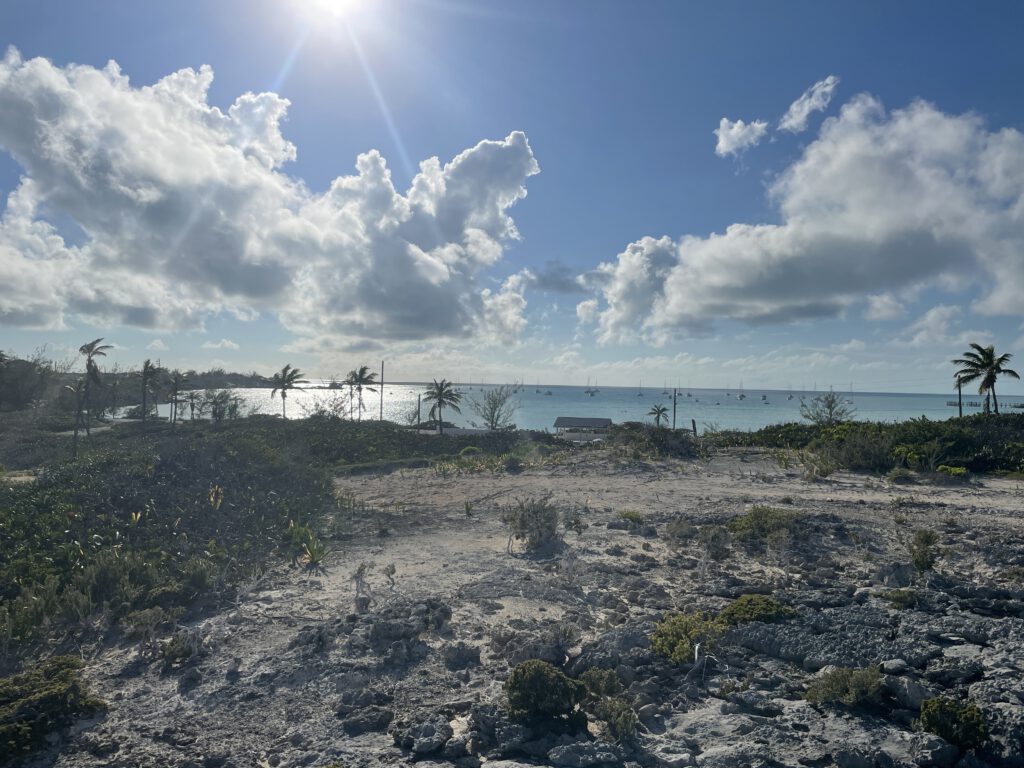 We also walked past the local jail again, which I had forgotten to take a picture of last year. You don't want to get locked up in Blackpoint!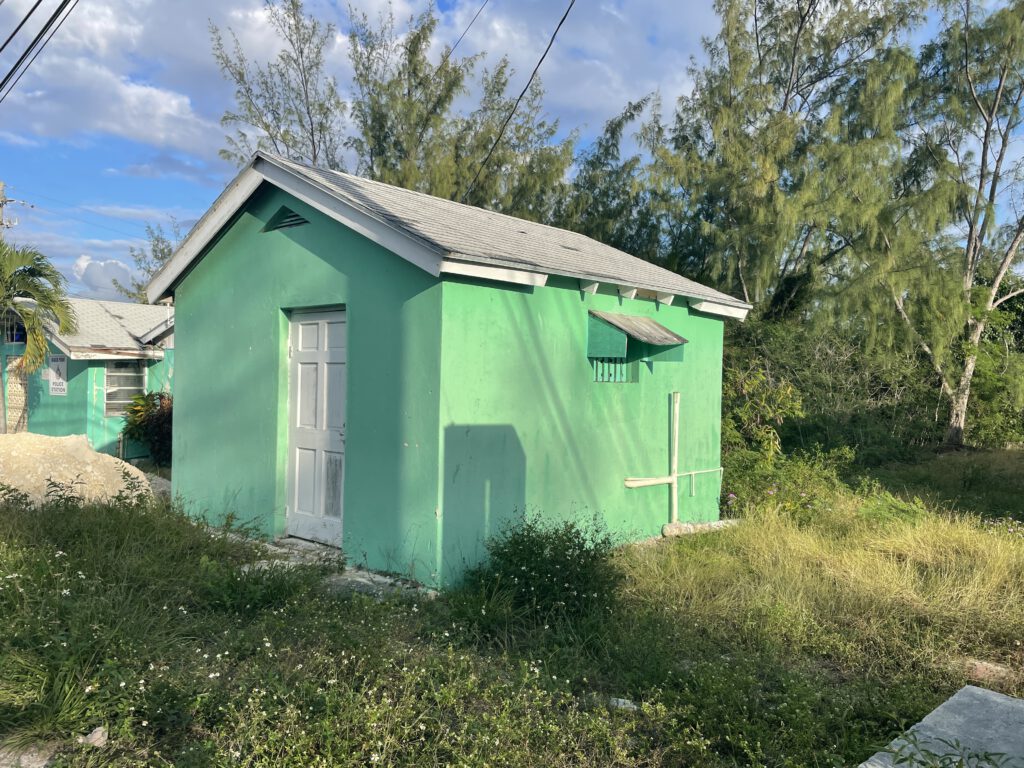 We had a quiet and early night, and set out early on Saturday morning (Feb 12) to cross the Exumas Sound to Cat Island. First we had to go through Gotham Cut to get to the Atlantic side of the Exuma Islands, and that was a crazy wild ride! Once we got through Anya had almost no nails left to bite off :-).
The crossing was really rough, and (you guessed it) the wind was on our nose. We had to go 60 miles that day, so we had no choice but to motor again. It was pretty rough in the Sound with 4-6 foot waves one directly after the other. Once we got closer to Cat Island, we decided to sail and tack into our overnight stop to save on fuel, before we collapsed into our bunk after 12 hours travel time!
On Sunday the 13th, we left on our final leg to get to Port Howe on the southern tip of Cat Island. The wind was blowing up to 28 knots and Anya had hurt her hand and couldn't hold anything, so we ended up motoring in 5-7 foot waves coming from the side. It was miserable!
3 hours later, we arrived in Port Howe and picked our way through the reef into the anchorage, where Destiny III (the catamaran we will be running charters on) was already waiting.
We hauled some things to shore to the Cottage we will get to stay in during our off times (and where our cats will live), and then went back for the cats. It was so rough in the anchorage that we didn't want to take the cats on the dinghy, so we spent another rough night on Ronya. The next morning was better, and both cats went to shore to their new home for the next 5 months. We also moved into the Cottage (we have about 8 days until we have to go to Georgetown to pick up our first charter). It is very cute with a kitchen, living area and bedroom, and a bathroom with a real shower!
The best part is the view – the Cottage is right on the beautiful white sand beach, and it has a patio overlooking the ocean!